ClearCorrect – Orthodontics Exciting New Development!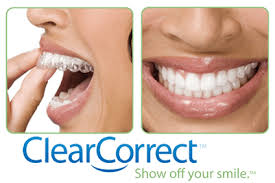 Say goodbye to wires, brackets and elastics – there's a new treatment plan in town. ClearCorrect orthodontics is a simpler alternative to braces, consisting of a series of clear, removable aligners that are custom made to fit you perfectly. This gentle, gradual straightening process is discreet, low maintenance, and far more comfortable than traditional braces. Read on to find out how ClearCorrect invisible braces can give you a reason to smile!
ClearCorrect is the clear winner in orthodontics technology
ClearCorrect invisible braces are surprisingly low maintenance – and as they are made without BPA or phthalates, they are a safe choice for your family. The aligners are removable which means they can easily be cleaned with a regular toothbrush, gentle toothpaste and cool water. This simple alternative to braces also makes brushing and flossing your teeth a breeze. Knowing you can keep your pearly whites extra shiny throughout the treatment process will help you stay on track towards achieving the smile you've been dreaming of.
The comfortable, carefree alternative to braces
As ClearCorrect's aligners are barely noticeable, they are an excellent alternative for those who prefer to be more low-key while going through treatment. As ClearCorrect invisible braces are removable, you can eat whatever you'd like without a care in the world and relax in social settings when dining out. You can also be confident that trips to the dentist for check-ups will be a piece of cake as there are no braces to be tightened with this solution. Choose a gentle dentist who offers these more comfortable aligners and be on your way to having a smile you'll be proud to show off.
Benefits beyond a stunning smile
Straightening your teeth can be a life-changing decision. Did you know that while a gorgeous smile can go a long way, there are many other benefits to having straight teeth as well? Properly aligned teeth last longer, reduce stress on jaw joints (often resulting in fewer headaches), and they are easier to clean which is a bonus for your overall health. By choosing ClearCorrect, you can make a positive impact on more than just your stunning smile.
A great alternative for adults
Orthodontics have come a long way over the past few decades and with a range of options now available, there's no need to shy away from having a beautiful smile at any age. If you're uncomfortable with the idea of wearing braces in the workplace, you will love that invisible aligners are barely noticeable and are a low maintenance alternative for those with busy lifestyles. If you've always wished you had done something to straighten your teeth when you were younger – or if you did have braces previously but did not get the outcome you were hoping for – ClearCorrect is the obvious choice. It's never too late to get the smile you deserve!
To find out if ClearCorrect orthodontics is right for you, book your Free 20 minute Smile Appraisal at Robert Duhig Dental today!